[
THIS POST HAS JUST BEEN UPDATED 3/29/2016- IMPORTANT-SEE BOTTOM OF THIS POST
]
The decision was made (Sept. 2012) to install a new satellite TV dish system atop Memory Roads. It appears to me that
MotoSAT
or
Tracstar
might be leaders in the higher end market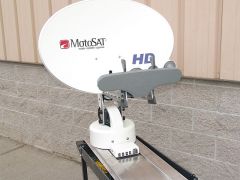 with
Winegard
commanding much respect and sales within a slight majority of the market. Fore sure, they are priced right and the competition is loosing a lot if they are not paying attention here!
However a new company has emerged from a group of major players 'retired' from
MotoSAT
.
*** the new player....
RF Mogul
might soon be the new 'big kid' on the block. Seems simpler, owner repairable(no need pull the thing to ship it off for repair!!) Single line in/splitting then to receivers inside the coach. I personally am interested in DirecTV and have had comments suggesting that only 3 LMB's for Direct TV..........why not the 5 available?? Well, I don't know but will ask Monday morning!
(Monday is here and it seems DirecTV is phasing out use of 110 and 119 adapting to acquire HD signals to the U.S. Satellites 99-101-103 will be used) Note that it 'is' possible to get and use a 5 LMB feed if you wish, rather than 3 but this appears unnecessary and backstepping on progress made) Home units of DirecTV can use 110 and 119 for local TV and Dish Network used 110 and 119. DirecTV already uses the SWM (single wire multiswitching) for residential set ups so rooftop antennas for RV's with a single cable through the roof and repairable components inside the living space)....makes sense to me.
The RF Mogul system was built for Recreational Vehicles and the 3 satellites it uses gives you
Following homework and gut reactions as always..............trust your instinct I say! It's what you spent your life accumulating, so Use It!
I'm doing research now but should know in a few days
which unit
and more importantly,
which company
will ride atop Memory Roads.
*Decision made. I've ordered an RF Mogul #4100 system for DirecTV. Installation was straight forward and not difficult for a handy guy. Very satisfied with the outcome!
( for a real up close view of this unit, just "Click" on it! )
It seems to me that RF Mogul has had the opportunity to create a fresh design incorporating the latest capabilities and engineering details and have done so.
.... Rather than laggards loosing, they just might be innovators, making inroads!
UPDATE! 3/29/2016 READ!!
I had been traveling in my little 23' class C up in Alaska for the summer of 2015 and upon returning to Florida, where I base my 40' Foretravel...with the RF Mogul System for Satellite TV, I found the system to NOT be working. I put the problem off as I was very busy rebuilding a home I had bought but once I decided to focus on getting the Satellite system working, I found online news that was disturbing.
RF Mogul had dropped it's connection to it's South Korean supplier of parts and software and had updated it's design and began manufacturing it's new equipment in the US. OK, good news!? Well, good and bad.
The good? Updated system, quicker lock on's(the old system was great) US manufacture and bugs worked out.
The bad? $$$$
Throw out most of your OLD system and bolt on the New parts. The new RF MOGUL EAGLE system, as they are calling it, requires changing out most of the unit on the roof and the control box inside the coach. Again though, good news! The cable from roof equipment, down into the coach can be left in place, so the entire removal of old and install of new equipment takes only a couple of hours at best. It took me 2 hrs.
The new system locks onto the satellites in 2.5- 6 minutes and performs perfectly.
Yes, there was a cost involved but it was still cheaper than buying another brands equipment and going through a total install.
I think RF Mogul got caught in a miserable position with the South Korean manufacturer but did the right thing. They seriously redesigned the mechanical components, upgraded the software and made the whole system simpler and more reliable than it was..and it was good to start with.
I still recommend the company and the Eagle sits atop my Foretravel, operating as it should. Perfectly.